Faculty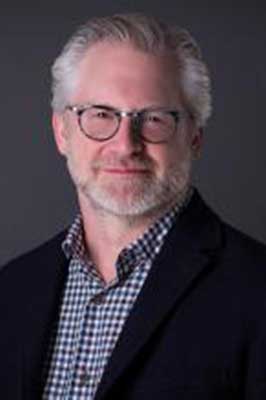 Dr. Delbert R. Dorscheid
Dr. Dorscheid is a member of the Divisions of Critical Care Medicine and Respirology at St. Paul 's Hospital, one of the University of British Columbia hospitals. He arrived in Vancouver on July 1, 2000 after being recruited from the University of Chicago. Dr. Dorscheid attends in the medical intensive care unit at St. Paul 's and is a researcher at the HLI. As a young physician-scientist, he leads an active research group investigating the role of the airway epithelium in the genesis of inflammatory airways diseases. The research program studies the role for inappropriate injury-repair cycles in the development of both chronic diseases such as asthma and acute illnesses like ALI/ARDS. Specific projects include the role of glucocorticoid-induced airway epithelial cell apoptosis, novel glycoproteins and the glycomics involved in the repair of an injured epithelium, and the expression of FasL as an immune barrier for the airway.
Dr. Dorscheid obtained his MD and PhD degrees from McGill University in Montreal. He graduated from Medicine in 1993 and two years later he defended his PhD thesis in Experimental Medicine. He moved onto Chicago where at the University of Chicago he completed his Internal Medicine residency and subsequently a fellowship in Pulmonary and Critical Care Medicine. During his time at the University of Chicago, he completed post-doctoral research with Dr. Steve White. After one year on the Faculty at the University of Chicago, he relocated with his family to Vancouver to take a position in Critical Care Medicine at UBC.
Education:
McGill University, Biochemistry
, 
BSc,
Recent Publications:
•Allahverdian S, Patchell BJ and Dorscheid DR. Carbohydrates and epithelial repair – more than just post-translational modification. Curr Drug Targets. 7(5):597-606. 2006.
•Allahverdian S, Wojcik KR, Dorscheid DR. Airway Epithelial Wound Repair: Role of Carbohydrate Sialyl Lewis X. Am J Physiol Lung Cell Mol Physiol. Jun 2. [Epub ahead of print] 2006.
•Davani EY, Boyd JH, Dorscheid DR, Wang Y, Meredith A, Chau E, Singhera GK, Walley KR. Cardiac ICAM-1 mediates leukocyte-dependent decreased ventricular contractility in endotoxemic mice. Cardiovasc Res. Jul 14; [Epub ahead of print] 2006.
•Davidson WJ, Dorscheid DR, Spragg R, Schulzer M, Mak E, Ayas NT. Exogenous pulmonary surfactant for the treatment of adult patients with acute respiratory distress syndrome: results of a meta-analysis. Crit Care. 10(2):R41. doi:10.1186/cc4851. 2006.
•"Dorscheid DR#, Patchell BJ#, Estrada O, Marroquin BA, Tse R, White SR. Effects of corticosteroid-induced apoptosis on airway epithelial wound closure in vitro. Am J Physiol Lung Cell Mol Physiol. Jun 2. [Epub ahead of print] 2006.
•# Authors are equal contributors and co-first authors."
•Patchell BJ and Dorscheid DR. Repair of the injury to respiratory epithelial cells characteristic of asthma is stimulated by Allomyrina dichotoma agglutinin specific serum glycoproteins. Clin Exp Allergy. 36(5):585-93. 2006.
•Singhera GK, Chan TS, Cheng JY, Vitalis TZ, Hamann KJ, Dorscheid DR. Apoptosis of viral-infected airway epithelial cells limit viral production and is altered by corticosteroid exposure. Respir Res. 7(1):78. 2006.
•Bateman RM, Tokunaga C, Kareco T, Dorscheid DR, Walley KR. Myocardial hypoxia-inducible HIF-1?, VEGF and GLUT1 gene expression is associated with microvascular and ICAM-1 heterogeneity during endotoxemia. Am J Physiol Heart Circ Physiol. 293:H448-H456. 2007.
•MacRedmond RE, Greene CM, Dorscheid DR, McElvaney NG, O'Neill SJ. Epithelial expression of TLR4 is modulated in COPD and by steroids, salmeterol and cigarette smoke. Respir Res. 8:84. 2007.
•Patchell, Benjamin; Wojcik, Kimberly; Yang, Ting-Ling; White, Steven; Dorscheid, Delbert. Glycosylation and Annexin II cell surface translocation mediate airway epithelial wound repair. Am J Physiol Lung Cell Mol Physiol. 293(2):L354-63. [Epub ahead of print May 18] 2007.
•Allahverdian S, Harada N, Singhera GK, Knight DA, Dorscheid DR. Secretion of IL-13 by airway epithelial cells enhances epithelial repair via HB-EGF. Am J Respir Cell Mol Biol. 38:153-60. 2008.
•Singhera GK, MacRedmond R, Dorscheid DR. Interleukin-9 and -13 inhibit spontaneous and corticosteroid induced apoptosis of normal airway epithelial cells. Exp Lung Res. 34:579-598. 2008.
•MacRedmond R, Singhera GK, Dorscheid DR. Erythropoietin inhibits respiratory epithelial cell apoptosis in a model of ALI. Eur Respir J. 33(6):1403-1414, 2009.
•Allahverdian S, Dorscheid DR. EGF receptor for glycosylation and ligand affinity and involved in airway epithelial repair. Clinical and Experimental Allergy [Epub Dec 2009] 40(4):607-18, 2010.
•MacRedmond R, Singhera G, Attridge S, Bahzad M, Fava C, Lai Y, Hallstrand T, Dorscheid D. Conjugated Linoleic Acid (CLA) improves airway hyperreactivity in overweight mild asthmatics. Clinical and Experimental Allergy [Epub June 10] 40(7):1071 – 1078, 2010.
•Marchant D, Singhera, GK Utokaparch S, Boyd B , Luo Z, Si X, Dorscheid DR, McManus BM, Hegele RG. Toll Like Receptor 4 mediated p38 Mitogen Activated Protein Kinase Activation is a Determinant of Respiratory Virus Entry and Tropism. Journal of Virology [Epub Aug 11] 84(21):11359-73, 2010.
•Wadsworth SJ, Atsuta R, McIntyre JO, Hackett T-L, Singhera GK, Dorscheid DR. Interleukin-13 and TH2 cytokine exposure triggers matrix metalloproteinase-7 mediated Fas ligand cleavage from bronchial epithelial cells. Journal of Allergy and Clinical Immunology [Epub 2010 Jul 10] 126(2):366-74, 374.e1-8, 2010.
•Tam A, Wadsworth S, Dorscheid D, Paul Man SF, Sin DD. The airway epithelium: More than just a structural barrier. Journal of Therapeutic Advances in Respiratory Disease [Epub 12 Dec 2010].
Long-term safety and efficacy of benralizumab in patients with severe, uncontrolled asthma: 1-year results from the BORA phase 3 extension trial. Busse WW, Bleecker ER, FitzGerald JM, Ferguson GT, Barker P, Sproule S, Olsson RF, Martin UJ, Goldman M; BORA study investigators. Lancet Respir Med. 2019 Jan;7(1):46-59. doi: 10.1016/S2213-2600(18)30406-5. Epub 2018 Nov 8. PMID: 30416083 Clinical Trial.
IL-13 signaling through IL-13 receptor α2 mediates airway epithelial wound repair. Yang SJ, Allahverdian S, Saunders ADR, Liu E, Dorscheid DR. FASEB J. 2019 Mar;33(3):3746-3757. doi: 10.1096/fj.201801285R. Epub 2018 Nov 27. PMID: 30481486 ., Dorscheid, D. R. IL-13 signaling through IL-13 receptor α2 mediates airway epithelial wound repair….
Omalizumab in patients with severe asthma and persistent sputum eosinophilia. Mukherjee M, Kjarsgaard M, Radford K, Huang C, Leigh R, Dorscheid DR, Lemiere C, Boulet LP, Waserman S, Martin J, Nair P. Allergy Asthma Clin Immunol. 2019 Apr 3;15:21. doi: 10.1186/s13223-019-0337-2. eCollection 2019. PMID: 30988677 Free PMC article.
Hedgehog signaling in the airway epithelium of patients with chronic obstructive pulmonary disease. Tam A, Hughes M, McNagny KM, Obeidat M, Hackett TL, Leung JM, Shaipanich T, Dorscheid DR, Singhera GK, Yang CWT, Paré PD, Hogg JC, Nickle D, Sin DD. Sci Rep. 2019 Mar 4;9(1):3353. doi: 10.1038/s41598-019-40045-3. PMID: 30833624 Free PMC article.
Phagocytosis of Aspergillus fumigatus by Human Bronchial Epithelial Cells Is Mediated by the Arp2/3 Complex and WIPF2. Culibrk L, Croft CA, Toor A, Yang SJ, Singhera GK, Dorscheid DR, Moore MM, Tebbutt SJ. Front Cell Infect Microbiol. 2019 Feb 7;9:16. doi: 10.3389/fcimb.2019.00016. eCollection 2019. PMID: 30792969
British Columbia Lung Association    IgE-mediated inflammation generated by the airway epithelium is antigen independent – a cause of a novel asthma phenotype    C    $59,450    Oct 2018 – Sept 2020
British Columbia Lung Association    Expression of HIV receptors on the airway epithelium – risk for disease severity    C    $50,000    Oct 2019 – Sept 2021    Leung, J    Dorscheid DR